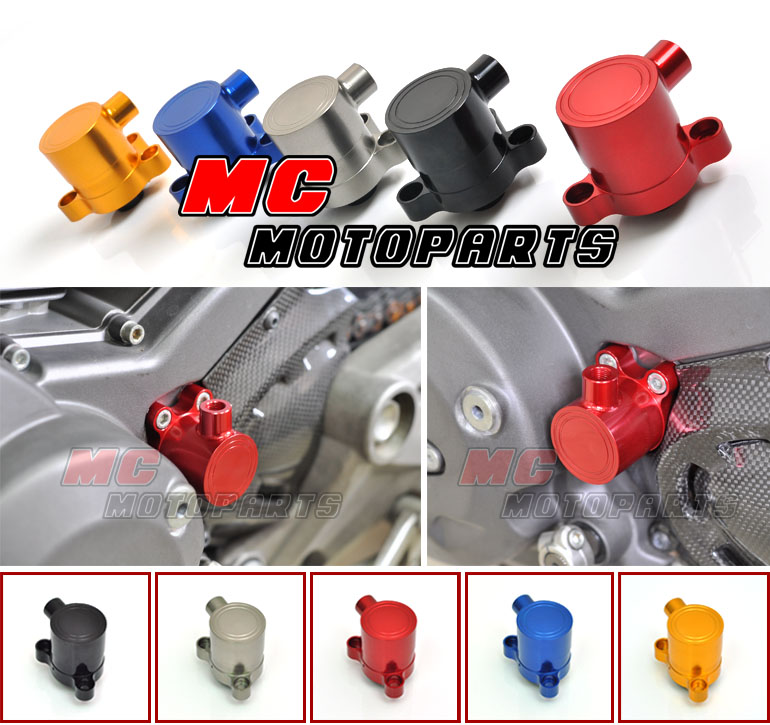 Ducati Clutch Slave cylinder
The Ducati Clutch Slave cylinder is our recommended slave upgrade for all ducati models 1992 and up. Top selling Ducati Slave Cylinder on the market! This is one of our top selling Ducati products for good reason. Your stock Ducati slave cylinder will fail, usually in the worst of moments. Signs of a wearing clutch slave include, very grabby clutch, slow or fast loss of brake fluid, noticeable amounts of guck accumulating under your front sprocket, total loss of any any clutch line pressure. Perfect performance with this clutch slave upgrade, available in Red. The slave cylinder is 30.5mm offers a 35% reduction in lever effort. 30.5mm.
` CNC machined from billet aluminum for strength,lightness and precision.
` 30.5mm inner piston to reduce clutch lever pressure by 35% compared to stock
` Improved smoothness in down shifts and modulation.
` It does include a spacer for models prior of year 2000 equipped with shorter shaft.
* Please confirm your bike Clutch Slave Cylinder before buying.
` 100% Brand New
` Made of High Quality CNC Machined Billet Aluminum
` Anodized for added style and durability
` Quantity: 1 piece
` Color: Black / Gold / Red / Blue / Titanium
* The color presented by the pictures may vary from different configuration of monitor. If buyer wants to clarify the color tone of the real products, please contact us for details. Color deviation may occur of Different Brand Monitor.
----------------------------------------------------------------------------------------------------------
Fit below motorcycle models
| | | |
| --- | --- | --- |
| Ducati | 748 | All Year |
| Ducati | 848 | All Year |
| Ducati | 916 | All Year |
| Ducati | 996 | All Year |
| Ducati | 998 | All Year |
| Ducati | Desmosedici RR | All Year |
| Ducati | Diavel / Carbon | All Year |
| Ducati | GT 1000 | All Year |
| Ducati | Hypermotard | All Year |
| Ducati | Hypermotard 1100 / EVO / SP / S | All Year |
| Ducati | Hypermotard 796 | All Year |
| Ducati | M1000 | All Year |
| Ducati | M600 | All Year |
| Ducati | M750 | All Year |
| Ducati | M800 | All Year |
| Ducati | M900 | All Year |
| Ducati | Monster 1100 / EVO / S | All Year |
| Ducati | Monster 620 / Dark | All Year |
| Ducati | Monster 695 | All Year |
| Ducati | Monster 696 | All Year |
| Ducati | Monster 796 | All Year |
| Ducati | Monster S2R 1000 | All Year |
| Ducati | Monster S2R 800 | All Year |
| Ducati | Monster S4R | All Year |
| Ducati | Monster S4R S Testastretta | All Year |
| Ducati | Monster S4R Testastretta | All Year |
| Ducati | Monster S4RS | All Year |
| Ducati | Multistrada 1000 DS | All Year |
| Ducati | Multistrada 1000S DS | All Year |
| Ducati | Multistrada 1100 / S | All Year |
| Ducati | Multistrada 1200 / S | All Year |
| Ducati | Multistrada 1200 S Sport | All Year |
| Ducati | Multistrada 1200 S Touring | All Year |
| Ducati | Multistrada 620 / Dark | All Year |
| Ducati | S4 | All Year |
| Ducati | Sport 1000 | All Year |
| Ducati | Sport 1000 BP | All Year |
| Ducati | Sport 1000 S BP | All Year |
| Ducati | Sport 620 | All Year |
| Ducati | Sport 750 | All Year |
| Ducati | Sport 800 | All Year |
| Ducati | Sport 900 | All Year |
| Ducati | SportClassic GT 1000 | All Year |
| Ducati | SportClassic GT 1000 Touring | All Year |
| Ducati | SportClassic Paul Smart 1000 LE | All Year |
| Ducati | SportClassic Sport 1000 | All Year |
| Ducati | SportClassic Sport 1000 Biposto | All Year |
| Ducati | SportClassic Sport 1000 Monoposto | All Year |
| Ducati | SportClassic Sport 1000 S | All Year |
| Ducati | SportsClassic GT 1000 | All Year |
| Ducati | SportsClassic Sport 1000 | All Year |
| Ducati | SportsClassic Sport 1000 S | All Year |
| Ducati | ST2 | All Year |
| Ducati | ST3 | All Year |
| Ducati | ST3 ABS | All Year |
| Ducati | ST3S ABS | All Year |
| Ducati | ST4 | 1999+ |
| Ducati | Streetfighter | All Year |
| Ducati | Streetfighter S | All Year |
| Ducati | Superbike 1098 / R / S | All Year |
| Ducati | Superbike 1098 S Tricolore | All Year |
| Ducati | Superbike 1198 / R / S / SP | All Year |
| Ducati | Superbike 749 / R / S / Dark | All Year |
| Ducati | Superbike 848 / EVO | All Year |
| Ducati | Superbike 999 / R / S | All Year |
| Ducati | SuperSport 1000 / DS | All Year |
| Ducati | SuperSport 750 | All Year |
| Ducati | SuperSport 800 | All Year |
| Ducati | SuperSport 900 | All Year |